In a week in which Sergio Aguero announced his intention to leave Manchester City in the summer, naturally there's been plenty of discourse around the Premier League's greatest ever strikers.
While names like Alan Shearer, Thierry Henry and Dennis Bergkamp are of course the first to be offered into such a discussion, Teddy Sheringham rarely gets a look-in - and we're not quite sure why.
Alright, so maybe he didn't score 700 league goals or win ten league titles during his time as a player. but his list of achievements is still impressive nonetheless.
Despite going down in our estimations following his decision to dress up as a tree on national television as part of that weird Masked Singer programme, we're not going to let the cloud our judgement of the former Manchester United forward, and on his 55th birthday we've taken a look back at his ten greatest career moments...
---
10. Premier League's oldest ever goalscorer It's a bit of a backhanded compliment this one.

While it's a remarkable achievement on one hand, on the other it's basically just a way of saying 'are you sure you should still be here?'.

Anyway, we think it's the former, and following his goal for West Ham against Portsmouth in December 2006, Sheringham became the Premier League's oldest ever goalscorer at the ripe old age of 40 years and 268 days.

What makes the record perhaps even more impressive is that he scored the aforementioned goal in absolutely rubbish West Ham side, who only really decided to start playing at the end of the season as they won seven of their last nine games to avoid relegation on the final day.
---
9. England debut
Absolutely any footballer who achieves international recognition would rank their international debut among their greatest achievements.

Sheringham had to wait until he was 27 to be handed his first cap for the Three Lions, with Graham Taylor naming him in the starting XI for his side's 1-1 draw with Poland in 1993.

Despite being made to wait to earn international honours, he made up for lost time by becoming a feature of the England squads throughout the 90s, but more on that to come...
---
8. First ever Premier League goal live on Sky Sports
It doesn't matter how many brilliant strikers grace the Premier League in the years to come, none of them will ever be able to take this away from Sheringham.

When Sky Sports was formed in 1991, the broadcasting giants had a huge hand in the formation of the Premier League and on 16 August 1992 they presented their first ever Super Sunday programme.

Sheringham wrote his name into English football's history books with the only goal of the game as Nottingham Forest beat Liverpool 1-0, with the frontman subsequently scoring the first goal ever shown live on Sky Sports.
---
7. First England goal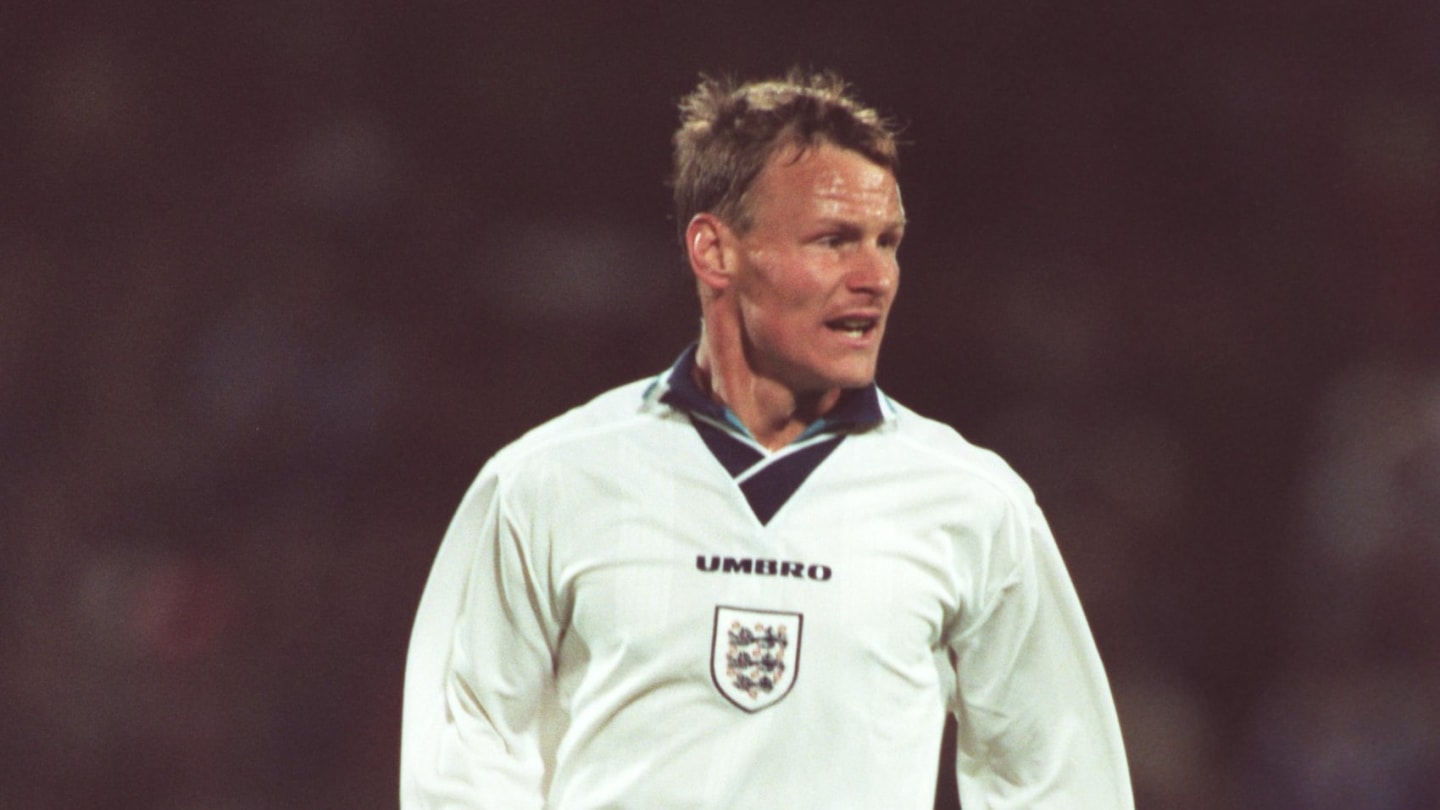 While making your England debut must be an unbelievable feeling, scoring your first goal definitely tops it.

Sheringham's first international strike came over two years after making his debut, as he handed England a lifeline shortly before half-time with Terry Venables' side trailing Sweden 2-0.

He went on to score 11 goals in total for the Three Lions in his 51 appearances.
---
6. First Premier League Golden Boot winner
Another record that can never be taken from him.

Sheringham's aforementioned goal for Forest against Liverpool turned out to be his last for the club as Tottenham snapped him up a week later for £2.1m.

The frontman performed brilliantly during his first spell with the club, and his 22 goals in his maiden campaign with Spurs saw him crowned the first ever Premier League Golden Boot winner.
---
5. PFA Players' Player of the Year award If you ask any football fan to name Manchester United's main striker in the 2000/01 season they'll undoubtedly reply 'Andy Cole' or 'Dwight Yorke' - but they'd be wrong.

Sheringham was Sir Alex Ferguson's go-to guy for the majority of the campaign, and his 21 goals in 33 appearances in all competitions saw him crowned the 2000/01 PFA Players' Player of the Year.
---
4. Three consecutive Premier League crowns While Sheringham picked up the odd bit of silverware both before and after his time at Manchester United, it was his four-year stay at Old Trafford that brought him the majority of his winner's medals

In four seasons at the club he only once missed out on the Premier League title, notching three consecutive crowns between 1999 and 2001.

It was the first time a side had ever won three Premier League titles on the bounce and it's only been achieved by one team since - Manchester United again, obviously.
---
3. Champions League final goal
Say the name 'Teddy Sheringham' to anyone and it just instantly brings back memories of that night in Barcelona.

With United trailing Bayern Munich 1-0 in the 1999 Champions League final, Ferguson turned to his trusty frontman to rescue the game.

As Ryan Giggs' timid right-footed effort looked to be drifting harmlessly wide, Sheringham did was he does best and showed a poacher's instinct to sweep the ball into the bottom corner.

You know how the story ends.
---
2. England 4-1 Holland
The highlight of Sheringham's international career.

In 1996 England hosted the European Championships, and in their final group game they came up against a star-studded Netherlands side.

Venables' men swept their Dutch opposition away with ease thanks to braces from both Alan Shearer and Sheringham.

Wembley was an absolute cacophony of noise as England demolished one of the teams tipped to win the tournament. The less said about the rest of the competition the better.
---
1. Manchester United treble The win against Holland was special, but there's no doubting the highlight of Sheringham's career.

Very few footballers get to experience the adulation of winning a Premier League title, so to win that as well as the FA Cup and the Champions League in one season - that's a whole different level.

Sheringham was a huge part of United's glorious 1998/99 campaign and their treble winning side will never be forgotten.
---
Honorary mention - agreeing to step aside as David Beckham placed the ball down to take a free-kick in the 93rd minute against Greece in England's 2002 World Cup qualifier at Old Trafford. Good call, Teddy.
Source :
90min